A few months ago, while I was still pregnant, I saw on TV a girl selling sensory burp cloths, they looked something like this: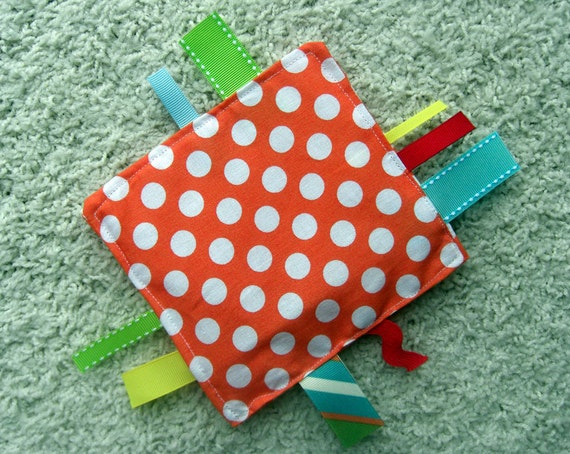 This is what a cute sensory burp cloth looks like
Here in Chile they are very overpriced (I can't afford 10$ burp cloths), if I buy them online I have to pay shipping fees and I don't like paying for stuff I can make myself so I decided to give it a try.
I can't sew to save my life so aesthetically my results are very poor, however the cloth serves its purpose and I like it very much.
If crafts aren't your thing, you can buy a handmade one on
etsy
:
But if you would like to DIY it's actually very simple and I bet your sensory burp cloth turns out even better than mine.
Materials:
1 Burp cloth or blanket.
Different scraps of fabric, ribbon and yarn. The idea is to get different colors and textures.
Plastic bag. I has to make a crunch sound when touched, kinda like cellophane.
Plastic bottle cap. I used a wide and flat one.
Felt. I cut a circle big enough to cover the bottle cap (with seam allowance), a rectangle big enough to fit my baby's name and in the letter I needed to spell it.
Small Beads
4 bells
Instructions:
1. As a base I used a small white burp cloth and attached the different scraps around the border. I used:
- Black burlap.
- White ribbon.
- Soft pink silky yarn that I knitted into a square.
- Strands of bright purple yarn.
- Blue "hairy" yarn that I crocheted so I doesn't break.
- Green fleece from an old blanket.
- Soft yellow fabric (I think it's nylon)
- "Yolk" yellow yarn that I crocheted into a ball and chain. I put 2 of the bells here.
- Orange yarn crocheted into a ball and chain. 2 more bells here.
- Red fabric
- Brown ribbon
2. Put a few beads on the bottle cap and turn it upside down on top of the cloth, being careful not to let the beads go. Sew the circle on top of it.
3. Sew or glue the letters on the rectangle. Fold the bag and sew the felt rectangle on top of it.
And that's all! You may add more scraps or materials and different textures to the burp cloth.